Trump: The First 100 Days
Less than 72 hours after taking the oath of office, President Trump has already gotten to work. So far he has taken executive action towards repealing Obamacare, stopped the reduction of annual mortgage premiums, and frozen all regulations from federal agencies, among other things. While some of these things may sound harsh, I will break down the pros and cons of each of his new policies.
President Trump promised to repeal universal healthcare all throughout his campaign, and mere hours after taking the oath of office, he began a series of executive orders aimed at repealing and replacing the Affordable Care Act. Although these orders do not repeal Obamacare, they take major steps to minimize the financial impact on insurers, healthcare providers, and the 20 million Americans currently covered by Obamacare. How this works is that the order allows the Secretary of Health and Human Services to regulate Obamacare as loosely as legally allowed. We can expect more executive orders like this in the next hundred days, but it will take time to repeal and replace, as much of the Affordable Care Act is signed into law.
The freezing of reductions of annual mortgage premiums came as a shock to many democrats. The reduction, implemented by Obama just last week, would have saved Americans up to $500 a year on their mortgages. The main reason, as explained by republicans, is simple: it's not a big enough buffer. The reduction of premiums acts as a buffer for the Federal Housing Administration (FHA), which aids homeowners with loans. The minimum size for the buffer is 2%, and the reductions lower that figure to 2.36%, which some Republicans believe would not be enough in case of a default. A default is when the people don't pay their mortgages, and there is a financial buffer that makes sure the system doesn't collapse in the case of a major default. With mortgage rates expected to rise this year, this may have been a mistake by the Trump administration.
Late on Friday night, Reince Priebus, the White House Chief of Staff, announced the freezing of all federal regulations. The explanation for this is that the Trump Administration wants to review them before they are passed. Many of the regulations currently being enforced were imposed under Obama, and one of the early campaign promises of Donald Trump was to dismantle the Obama legacy and repeal most of his policies through the use of executive action. These policies, as Trump claims, have placed burdens on American businesses. Trump cannot repeal any regulations already in place, but he can stop the ones that haven't been imposed. Trump has already canceled all of Obama's pending regulations. Not all of Obama's regulations are on the chopping block, though. Matters relating to "critical health, safety, financial, and national security" have been spared so far.
On Monday, President Trump signed an executive order withdrawing the United States from the Trans-Pacific Partnership deal, marking the first steps of bringing jobs back to America. Bringing back jobs was another one of his focuses during his campaign, and he had promised to back out of the TPP. Backing out of the TPP is the second promise that Trump has kept within the first three days of being in office. The partnership was aimed at strengthening ties with countries like China and cutting taxes to boost economic growth in all of the involved countries. The TPP, however, could affect American jobs, and Trump, following his campaign promise, repealed it. There is now tension within his own party now, as Senator John McCain has said that the withdrawal is a "serious mistake that will have lasting consequences for America's economy and our position in the Asia-Pacific region." He then praised its benefits, saying that it would open up new jobs and  markets. He also said that President Trump's decision to withdraw from the deal would "create an opening for China to rewrite the economic rules of the road at the expense of the American worker."
Along with withdrawing from the TPP, Trump also issued executive orders freezing the hiring of and pay raises to federal employees, as well as a ban on federal funds going towards international groups that perform abortions. The temporary freeze of federal hiring is a step towards less federal spending, and the freeze will stay in place until plans to curtail federal employment can be reached. Trump has long argued that there are too many federal employees, and these actions are steps towards shrinking the federal workforce. President Trump also re-enacted the controversial Mexico City policy, which bars the US from funding foreign groups that perform abortions, abortion counseling, and family planning services.
More recently, Trump has claimed that the reason that he didn't win the popular vote was because millions of undocumented immigrants voted illegally in the election. He has since ordered a major investigation into voter fraud. The reality of this claim, as said by many experts, is that it probably never happened. The theory, which has long since been debunked, is baseless. Although being registered to vote in two different states is common, double voting is very rare. Voter fraud as a whole is very rare, and many studies have shown its low numbers.
With the signing of some executive orders, President Trump revived the Keystone XL and Dakota Access Pipelines, as well as curbed regulations that slow down other pipeline projects. The Keystone Pipeline, which was blocked by Obama, would transport 800,000 barrels of oil a day from the tar sands in Alberta to the refineries on the Gulf Coast. Many environmental groups are concerned that it may extend tar sand development, the most destructive form of oil production. On the other hand, fracking is what is known as "well stimulation."  Fracking is basically the use of pressurized water and unknown cocktails of chemicals (which are protected by trade secrets) which are pumped underground in order to free oil that is trapped in the rocks. Fracking is usually performed in previously developed oil fields or other areas where rock formations or poor oil quality inhibit the flow of oil to extraction wells. This contaminates groundwater, causes earthquakes in areas that normally do not experience them, accelerates climate change and destroys the landscape. The photo below is of a boreal forest before and after tar sand mining.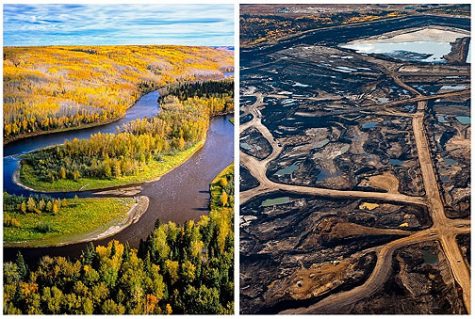 Since taking office, President Trump has met some of his campaign promises, and the American people await more executive action and changes in foreign and domestic policy. In the next few months, I predict that we will see fierce debate about issues such as the border wall, which could cost upwards of $15 billion, possible military action in the Middle East, and Obamacare. As we await more policies, the Renegade Report will continue its coverage of the Trump Administration.