The 9 Things You Need to Know Before Joining a FIRST Robotics Team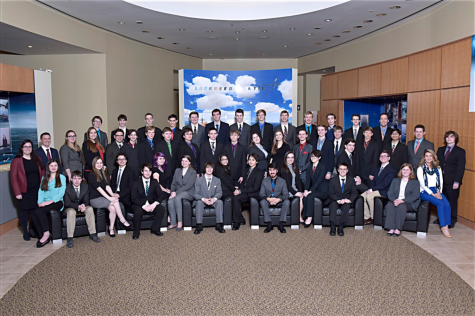 "FIRST is more than just robots. The robots are a vehicle for students to learn important life skills." – Dean Kamen, Founder of FIRST Robotics
The FIRST Robotics Competition, in short, is a global-scale robotics competition in which high school students are given six weeks to construct and program a robot which then competes in several robotics tournaments against other teams in their districts, regions, and even the infamous FIRST  International Championship in Saint Louis, Missouri. As intimidating as that sounds, joining a robotics team isn't as daunting a task as it seems, and it can be actually a lot of fun. If you want to join Shawnee and Seneca's joint robotics team, the Iron Devils, the first meeting is Monday, October 16th, 2017 from 3-6 PM, and we will be bussed over to Seneca. Here's what you really have to think about before joining.
1) You don't actually need any previous background knowledge in the STEM field to join.
If robotics interests you, but you're afraid you might not know anything, try it anyway. In robotics, ther are tons of sub-teams that make up the entire team, and sub-team student leads and mentors are happy to show you the ropes any way they can. Some sub-teams don't even touch the robot the entire season, like Multimedia or Management and Marketing. In competitions, there are more multiple awards that you can win, some of which you need to submit essays for.  Those other sub-teams are necessary for raising money for the team, writing those award essays, taking photos of events, keeping the team's social media accounts up to date, designing t-shirts and jerseys, and more. No matter what, there's at least one sub-team you're going to like.
2) Competitions get pretty intense.
Robotics competitions are like football games, but louder. Chances are, if you've gone to at least one robotics competition, you'll probably remember the blood-curdling screams of the crowd. You can get awards for having a whole lot of team spirit, so team members will scream their hearts out if they have to. Some teams even have chants unique to themselves, such as Team Sa-BOT-age 1640's "Oh my lordy, 1640!" or Lenape and Cherokee's robotics team, Storm 2729's "clap, clap, WHOOSH." As cheesy as some may be, team members really do love their team with all their hearts.
3) "Build Season" will take over your entire life.
"Build Season" is the six week period in which your team is allowed to begin constructing the robot. Once it starts, you'll have to spend six out of seven days of the week at meetings. It's a lot of work, but it pays off.
4) Be prepared to do work.
Building a robot is hard work. Don't expect it to be done in a few days. It's a lengthy process that you actually have to contribute to ensure the team stays on schedule. If you're not given something to do, ask if you can help with something. The team is constantly working and there is always work to be done.
5) Know the macarena.
Without fail, at every competition, they will play the macarena. And without fail, at every competition, at least one team will dance to every song played with the macarena. It's not really a competition unless they play "The Macarena."
6) After "Build Season," you'll form unbreakable bonds with all of your fellow team members.
During Build Season, you'll see your teammates more than anyone else. All that time with them leads to inseparable friendships that last for eternity. If they've seen you during build season, they'll never judge you. Build Season, quite literally, brings people together.
7) There's tons of scholarships open for FIRST Robotics Team members.
At the current moment, there is fifty million dollars worth of scholarships available for FIRST Robotics team members. Additionally, there's about 200 scholarship providers for FIRST Robotics team members, too.
8) The Tem doesn't just compete, it also does community outreach.
Robotics teams don't just compete in tournaments, they also do team-building activities to help spread the word about FIRST Robotics, and the STEM fields in general, such as the Shawnee and Seneca Robotics Team's, annual Pancake Breakfast, where the team teaches elementary through middle school students about STEM and possible STEM professions in the future, through activities and of course, pancakes. The team also engages in community outreach in projects such as Women in STEM Day, in which the team brings in its team sponsors, mentors, and women of other robotics teams to inform women about being a minority in STEM, and how to deal with stigma in the field. The team also participates in the Safe Trick-or-Treat at Seneca High School.
9) We're not just a team, we're a family.
At the end of the day, no matter your age, grade, sub-team, if you're a mentor, teacher, or sponsor, the Robotics Team is all one big family. Robotics is something you can't share without ending up friends, and good ones at that. Once you join, robotics will forever hold a place in your heart that can't be replaced. Never stop building.