Two Takes on the College Application Process
Hang on for a minute...we're trying to find some more stories you might like.
It's April, and the college application season for high school seniors is getting into its final stages! Most seniors will have committed to their schools by the next few days. Meanwhile, juniors are likely beginning their college search in earnest.
The Renegade Report's editors, two seniors, offer their insight.
Eric Schubert
Personally, I applied to fifteen schools extremely early – and had my decision down by December. But I know not everyone is like that, and students are still pondering their decision. The next deadline is on May 1st.
I wanted to give a quick rundown, from my point of view, of how the college application process went for me and the factors that went into my decision, as everyone is different.
I had an idea as to a few colleges I wanted to apply to. However, I knew that wouldn't be enough. I wanted options. I was searching for a small, private college or university (2000 students or less) no more than four hours away from Medford, with a strong Education program and no fraternities and a sororities. In the end, after I applied to the 15 colleges that met my criteria, my decision came down to financial aid offered and closeness to public transportation: two things that I knew were important, but didn't realize how important they were until the final decision.
I was accepted to all fifteen schools, so one day I sat down at my kitchen table to make my decision.
I had only applied to the schools that fit my criteria and which I'd be willing and excited to go to. So, I knew I could make my decision in one day. All schools not meeting a certain financial aid threshold were eliminated, which surprisingly left me with about five schools.
From there, that's when I mainly knew I had to focus on distance home and closeness to public transportation. Two of the five schools were really pushing the four hour limit, and were nowhere near public transportation. I cut them out. So, I was left with three! One was about three hours away, no public transportation. I cut that out too. I was finally down to two. One offer was better than the other, and right by public transportation – my brother, coincidentally, was also an alumni!
So, in the end, I was proud to choose Elizabethtown College after my extensive search. I will be double majoring in Social Studies Education and History.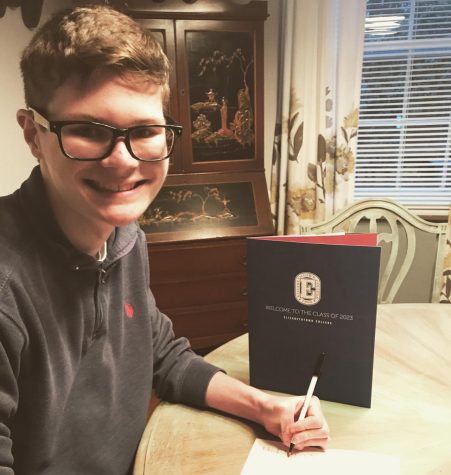 Charlotte Mandy
I decided in the spring of my junior year to make senior year as stress-free as possible. With that in mind, I made a detailed calendar of what I needed to accomplish before the college app season began.
Did I keep to that schedule? Not really. But it helped me realize how much time I'd need.
My first step was that I typed into Google "best colleges for the space sciences" and went down the list, with little regard for cost, location, or prestige. I visited their websites. Importantly, I looked at other programs offered that I might be interested in; I'm indecisive by nature. Then, I combed through the list again and whittled it down to four universities that were on the east coast and might work with my grades and test scores. They had a good reputation for meeting the financial need of applicants.
These four schools were Penn State, Cornell, UVA, and UMD. I visited the campus of all except UMD, taking notes, taking pictures, reading articles, having a few existential crises.
I think the whole safety, match, or reach categorization puts you at risk for serious discouragement, making you think you're wasting your time on an impossible school or, worse, that you've settled for less. In those terms, however, Cornell was my "reach" school, and I applied under Early Decision.
It's binding, so only apply Early Decision if it's your top choice. The advantage is that it makes you a more appealing applicant because of your commitment. It made sense for me because I figured if I'm going to chase a crazy field like astrophysics, I might as well have a go at doing it at my favorite – and the most rigorous – of my prospective schools.
I'm a weird STEM applicant. I write and paint in my free time, I didn't take all AP and Honors classes, I haven't won many awards or started any charities, but I love what I'm majoring in, I'm prepared to work, and my application essays were good. The college app process is all about walking the line between underestimating and overestimating yourself, between what you've done and what you'd like to do. Most of all, get as much feedback as you can and at least try to keep to a schedule.
In the fall I'll be attending Cornell, majoring in astronomy with a concentration in astrophysics! I couldn't be more excited.