Teacher of the Year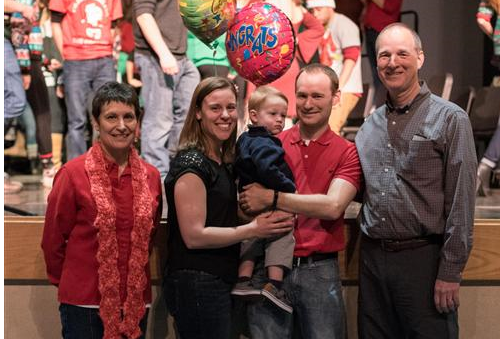 In December of 2016, social studies teacher and Boys Swim Team head coach Mr. Eric O'Neill was awarded the honor of Teacher of the Year. Only one teacher per school year and district school receives this recognition; Mr. O'Neill says he was surprised, honored, and humbled.
His family joined him on stage amidst cheers of approval from the packed auditorium. "I was not expecting this in any way," he has informed the Report, "because there are so many dedicated and passionate teachers in this school."
Mr O'Neill, who had a number of inspiring teachers as a student himself, says he became a teacher because he wanted to pay that forward to the next generation. His psychology classes are observed to be interactive and thought-provoking, involving class discussions and group work.
"My favorite thing is to get to classes where all the student personalities in the room click with you and with each other," he says, "and they're engaged and interested in the lessons and subject matter." He also expresses that the profession of teaching is made interesting every year with each new group of students that arrives, and it is this yearly rotation that allows him to improve his lessons and courses.
As to what qualities make someone eligible to be Teacher of the Year, Mr O'Neill believes that a teacher needs to enjoy working with high school age students and making connections with them. A teacher ought also to take an extracurricular interest in the school and its students, be it sports, activities, student events, etc. Finally, he emphasized the importance that "teachers need to make sure students can see…how their courses can relate to their actual lives." It is this relationship between teaching material and the real world that is so essential to the classroom dynamic.
It is safe to say that Mr. O'Neill fulfills these characteristics and is considered among the most dedicated and passionate teachers of Shawnee High School!