Meme Review
MEME REVIEW
Welcome to Meme Review, in this article series we will be reviewing different memes throughout the coming months, this months memes are as follows, "Baby Yoda', and "Okay Boomer". I will be reviewing the background information of each meme, the sort of captions or situations it is paired with, and then giving it a 0 to 10 point rating.
MEME ONE 
"Baby Yoda" as the internet has labeled him, has taken over people's hearts. "The Child," as named in the recent episodes of the show, The Mandalorian, has become a meme that covers the entire internet. The little puppet's design has people very excited about seeing even more of him, and the new Disney+ hit series is certainly planning to deliver. The pictures people have been capturing of him include the creature sipping a bowl of soup. Distributors and creators seemed massively unprepared for the little being's popularity, and have worked hard to catch up with the demand. The world is so obsessed with Baby Yoda, that the alien even made an appearance on Saturday Night Live during their weekend update bit.
I rate this meme an 8 out of 10. I enjoy the meme, and the creature is hilarious when paired with the innocent captions that have been circulated through the internet.
MEME TWO
"Ok Boomer" is a phrase that has become a huge meme among younger people, specifically Millennials and Generation Z. The joke was a way to express young people's frustration with the older generation. The term is regularly used when the older generations do things such as, confusion with current technology, talks about things the younger generations should be doing, and etc. This joke is definitely controversial due to the fact that that it has caused a bit of a generational divide between people. However, it is a funny comeback to some things and can pose to be a joke to lighten the mood if boomers don't take it personally.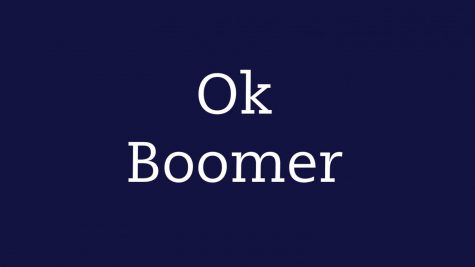 I rate this meme a 6 due to the comedy factor for younger people, however, the controversy lowers its rating. 
With these ratings, "Baby Yoda" has been given the meme of the month award. I find it overall the better meme, it causes less trouble and is more or less loved by everyone, the creature is adorable and the show so var I very much enjoy.