Quarantine Recipes
During quarantine, we're all just sitting around our houses and waiting to go out again. If you're anything like me, you're probably eating everything in your house. Luckily, there is a spectacular way for you to get up and move around, and have something to eat in the end! Here are some recipes to try while you're in quarantine!
Toll House Chocolate Chip Pan Cookie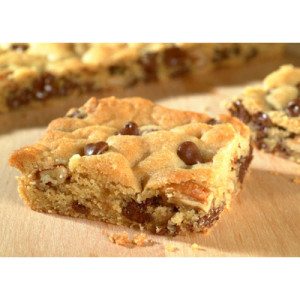 This is different from your average cookie, there aren't individual cookies, because it's baked like a brownie. You get to choose how big you want your portion to be, and you could easily share with friends!
Ingredients:
2 ¼ cups of flour
1 teaspoon of baking soda
1 teaspoon of salt
1 teaspoon of vanilla extract
1 cup of butter, softened
¾ cups sugar
¾ brown sugar
2 eggs
1 (12 ounce) package of semi-sweet chocolate chips
1 cup chopped nuts (optional)
Directions:
Preheat oven to 375*, and grease a 15 x 10 inch jelly roll pan.
Combine flour, baking soda, and salt in a small bowl.
Beat butter, both sugars, and vanilla in a large mixer bowl.
Gradually beat flour mixture into butter mixture.
Add eggs one at a time, beat well after each.
Stir in chocolate chips and nuts.
Spread into prepared pan.
Bake for 20-25 minutes or until golden brown.
Baker's Tip: Make sure you spread evenly into the pan!
Banana Bread
Banana bread is a classic family favorite. You can also put a variety of things in it, depending on your preference. You can include nuts, chocolate chips, and even Nutella. With this recipe, you can show your family that you know how to bake, and that you can use some of the fruit that's in the house!
Ingredients:
1 ½ cup of flour
1 ¼ teaspoon baking powder
½ teaspoon baking soda
½ teaspoon ground cinnamon
⅛ teaspoon salt
2 slightly beaten egg whites
Approximately 2 mashed bananas
¾ cup of sugar
¼ cup of cooking oil
Chocolate chips (optional)
Directions:
Preheat oven at 350*, spray pan (use a bread pan for best results).
Stir together flour, baking powder, baking soda, cinnamon, and salt in a bowl.
In a separate bowl, stir together egg whites, bananas, sugar, and oil.
Mix the contents of both bowls until moistened.
Bake for 45-50 minutes.
Cranberry Bread
This recipe may be the best one on this list. The bread is very dense and moist, and the cranberries add an explosion of flavor! The recipe is definitely something you would want to save after you try it. I recommend that everyone tries this at least once.
Ingredients:
2 cups of flour
1 ½ cups of sugar
1 cup of unsalted butter (room temperature)
1 8oz cream cheese (room temperature)
4 eggs
1 ½ teaspoon vanilla extract
1 ½ teaspoon baking powder
1 ½ teaspoon salt
1 12oz bag of cranberries
Directions:
Preheat oven to 350* and lightly grease a loaf pan (same as bread pan)
Mix together butter, cream cheese, and sugar in a large bowl, then beat in eggs one at a time, then add vanilla.
In a separate bowl, whisk together flour, baking powder, and salt until combined.
Gradually add wet ingredients and dry ingredients. Stir until combined.
Gently fold in cranberries, then pour the mixture into the greased baking dish.
Place in oven and bake for 60-70 minutes or until the toothpick inserted in center is clean when removed.
Remove from oven and let cool for at least 15 minutes before serving.
Baker's Tip: Place a cookie sheet underneath the bread pan, sometimes the amount of cranberries makes the bread run over. So be aware of how many cranberries you're putting in! Time is also very sensitive since the bread is so dense. Please make sure you do the toothpick test in a few different areas!
Edible Cookie Dough
Let's be honest, we all sneak a bit of the cookie dough when we're making cookies. Well, that's not exactly the safest choice. Now, we can safely eat the cookie dough without having to worry about food poisoning! The cookie dough is the best part anyway, so why wait to have the cookies baked anyway?
Ingredients:
½ cup of softened butter
½ cup of brown sugar
¼ cup of white sugar
2-4 tablespoons of milk
2 teaspoons of vanilla extract
½ teaspoon of baking soda
½ teaspoon of salt
¾ cup of flour
 ¾ cup oats (optional)
1 cup chocolate chips
¼ cup of sprinkles (optional)
Directions:
Mix butter and sugars with an electric mixer until well combined. Next add 2 tablespoons of milk (reserve the rest) and vanilla. Mix until well combined.
Then add baking soda, flour, chocolate chips, (and oats and sprinkles if chosen) until well combined. Mixture may be very thick, additional milk may be added if desired.
Store in a covered container in the refrigerator.
Vanilla Mug Cake
Have you ever just wanted a small personal cake of your own, that you can make quickly? Well, the mug cake might be the perfect thing for you to try! There are many, many different kinds of mug cakes, and they're all pretty good. Although, classic vanilla is never a bad place to start.
Vanilla Mug Cake:
Ingredients:
2 tablespoons unsalted butter
1 tablespoon milk
½ teaspoon vanilla extract
1 large egg yolk (can substitute for another tablespoon of milk)
2 tablespoons white sugar
4 tablespoons flour
½ teaspoon baking powder
1 tablespoon sprinkles (optional)
Frosting (optional)
2 tablespoons unsalted butter
2-3 tablespoons powdered sugar
1 teaspoon milk
Directions:
Vanilla Mug Cake
Add the butter to your mug and microwave until melted (about 30 seconds).
Whisk in the milk, vanilla extract, egg yolk, and sugar with a fork.
Whisk in flour and baking powder, stir in the sprinkles.
Microwave for 60-90 seconds on medium power, the top should look set when done.
Cool for at least one minute before enjoying.
Frosting
Beat butter with an electric mixer or whisk with a fork until smooth.
Beat/whisk in the powdered sugar.
Spread/pipe on top of cake